How to get your photos edited by Ymage
It takes just 4 steps to get your images professionally edited by humans, not machines.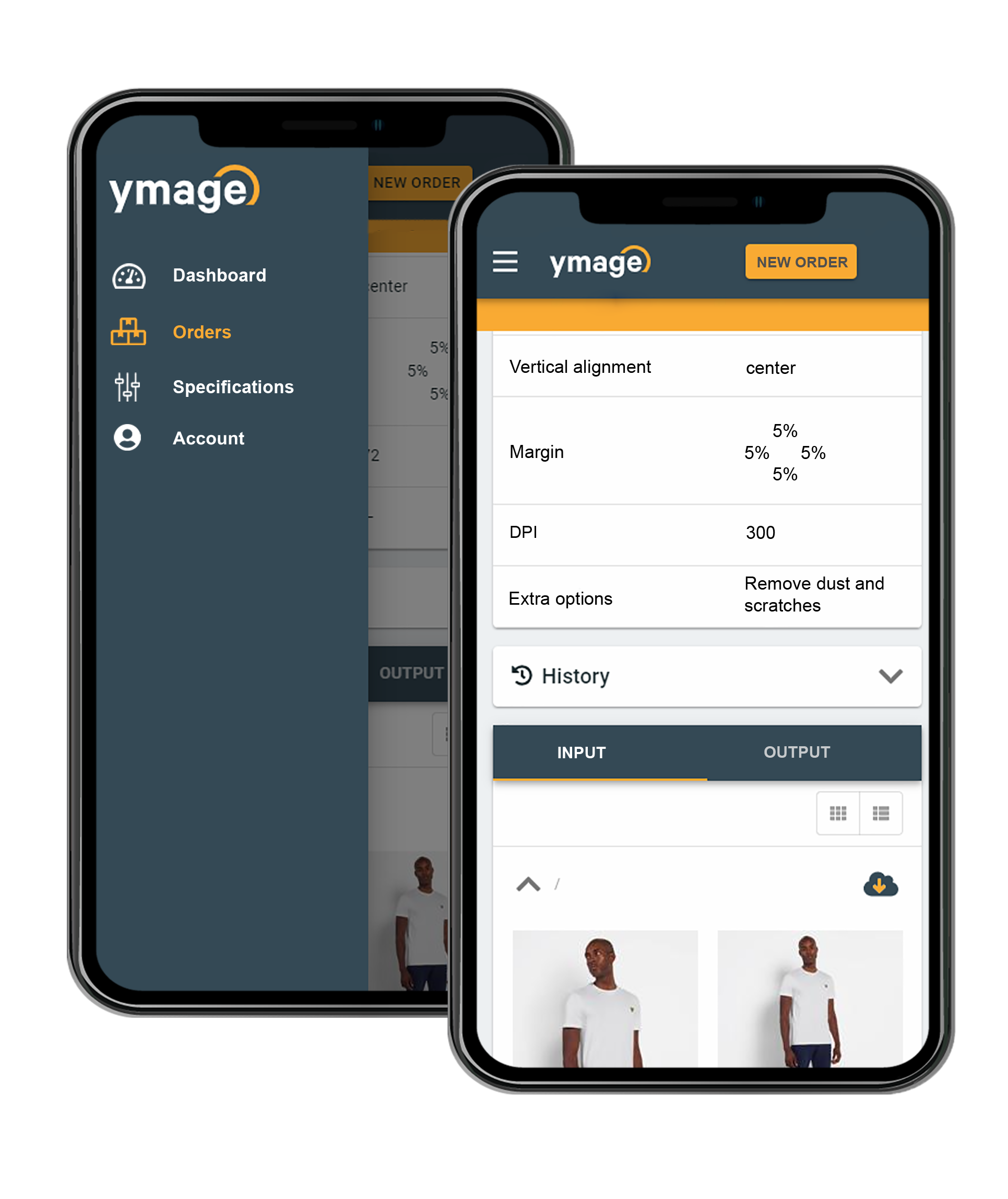 Upload your images
Upload complete directory structures, connect with your favorite application, and much more.
Define your editing needs
Create order specifications to fit your needs or use one-click marketplace specifications.
Relax while we get to work
You can relax and let us worry about image specifications, deadlines, and image quality.
Download your images
You'll receive professionally edited images in less than 24 hours. Upload them directly to your store.
Market references
Do what you do best. Save time and money on all your photo editing tasks.
Try our online image editing services
Grow your business with an image editing company you can trust to save you time, money, and stress.
The image editing services you need
Background removal
Cutouts, knock-outs, etching, silhouettes, etc. Whatever you call it, removing the background from product photos is an essential image editing task.
Photo retouching
Props, creases, wrinkles, skin blemishes, dust, and other inconsistencies. All these can be removed to enhance your image and give it that professional look and feel.
Clipping path
Prepare for the future with carefully hand-drawn clipping paths. Use clipping paths for text wrapping, background removal, print media, and the web.
Color adjustment
Reduce returns with perfect colors. Update your product image sets to match color values perfectly. Or switch to a completely different color altogether.
Invisible mannequin
Model photography is expensive and mannequins are distracting. Combine multiple images to keep the focus on your product and nowhere else.
Shadow & reflection
Give an image a level of depth and increase your product's appeal. By either keeping an existing natural shadow or adding a subtle shadow or reflection.
No more headaches when editing product photos
Editing large volumes of images can be a stressful job. Combining creativity and efficiency and ensuring that no communication is lost requires expertise. Some days the workload is low, and other days you wish you could clone your team. Depending on expectations, priorities are adjusted and everyone expects the creative brain to meet the deadline.
Improve quality, reduce turnaround time, and save on post-production costs by outsourcing all your photo editing to Ymage.
Get your quote
Large volume or special project? Let us know the details of your image-editing needs.
Our customers
Photographers & studios
Speed up your workflow so you can focus more on business development.
E-Commerce professionals
You do it all and need a helping hand that takes some of the tasks off your plate.
Online brands
Your staff is overloaded and hiring a new employee doesn't always make sense.
Get your photos edited for free
Upload 10 sample images and we'll edit them for free — no credit card required.